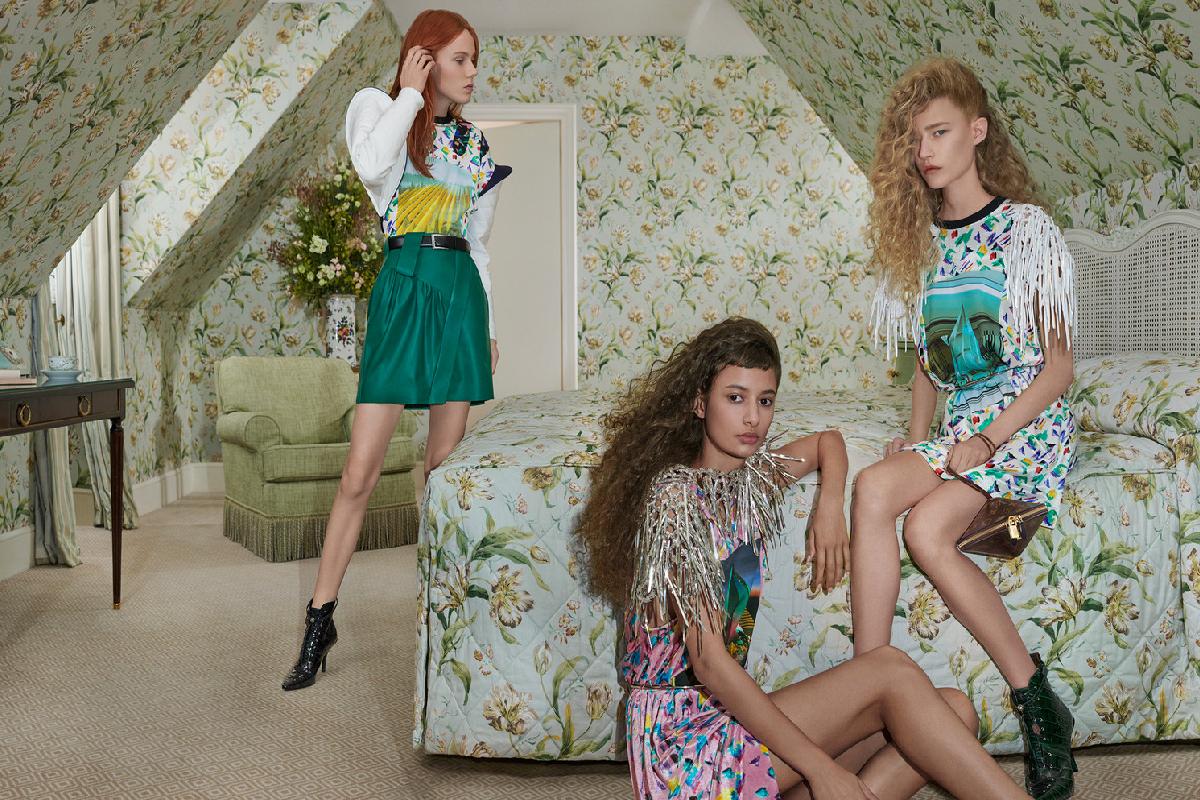 PLAYING THE FRINGE GAME IN MYKONOS
Template Image Courtesy of Louis Vuitton.
Magda Tsolaki-Deloudi shares her fashion favorites about this season's fringe-trend. "The fringe" is set to appear with a lot of confidence and  playfulness throughout the alleys of Mykonos.
Every now and then, I recall Tom Ford's momentum when he was at the helm of Gucci. Apart from his other emblematic and glamorous designs, Tom Ford made history out of combining the Maison's history with his own special flair and sexiness. Ιt was that "dragon thing" he did during his time at the House, that totally put me under his spell.  Fringes were also Tom Ford's absolute thing and they still remain so.
It was back then when he designed the limited edition purple sequin fringe dragon clutch bag (too much information in one sentence? Well, its Tom Ford we are talking about – too much is never enough). As soon as I thought about fringes, one of this season's hottest trends, Tom Ford and his fringed clutch bag came straight to my mind.
I love the fact that in Mykonos, the style paradise of Summer, one can feel free to adjust all trends of the season to their personal style, wear them with pride and feel awesome!
Images Courtesy of Jacquemus, Gucci by Tom Ford, Nikos Koulis Jewels, Louis Vuitton, Calista Crafts, Jacquemus, Ancient Greek Sandals,
Fringes came back as a reminder to elevate our playfulness with sexiness, combining it with a lot of attitude and style. I have some picks and faves when it comes to dressing "fringy" in Mykonos.
Firstly you need to find a piece you really love and feel certain about having in your wardrobe. Options are endless and one can just choose a fringy accessory, such as a bag or even a shoe to make the trend their own. I really fancy the mules from SANAYI 313 as well as the black fringe ones form Ancient Greek Sandals but I absolutely adore the flat suede Aquazzura sandal with the little shells on top, it screams island style all over it. Bags can also play the part, Jacquemus and Loewe are having my favourites. Whereas Cult Gaia, Carolina Santo Domingo and Sophie Anderson are also offering some great styles for all times of the day.
Of course, we cannot miss talking about Nicolas Ghesquière, the Louis Vuitton designer, and his expertise in combining materials in the most fabulous and contemporary way. Every season Ghesquière is revealing a new path for the future.
Rosantica also carries a fun variety of beaded-fringe bags in lovely colors! If you want to go even more fringe-discreet add a Dries van Noten belt to your evening outfit or a Pippa Holt one over your kaftan. Speaking of accessories, let's not forget jewelry: Go extravagant and make your most luxurious pick from Greek jewelry designer Nikos Koulis and his award wining "Feelings" collection. You will surely create many of them to anyone around you!