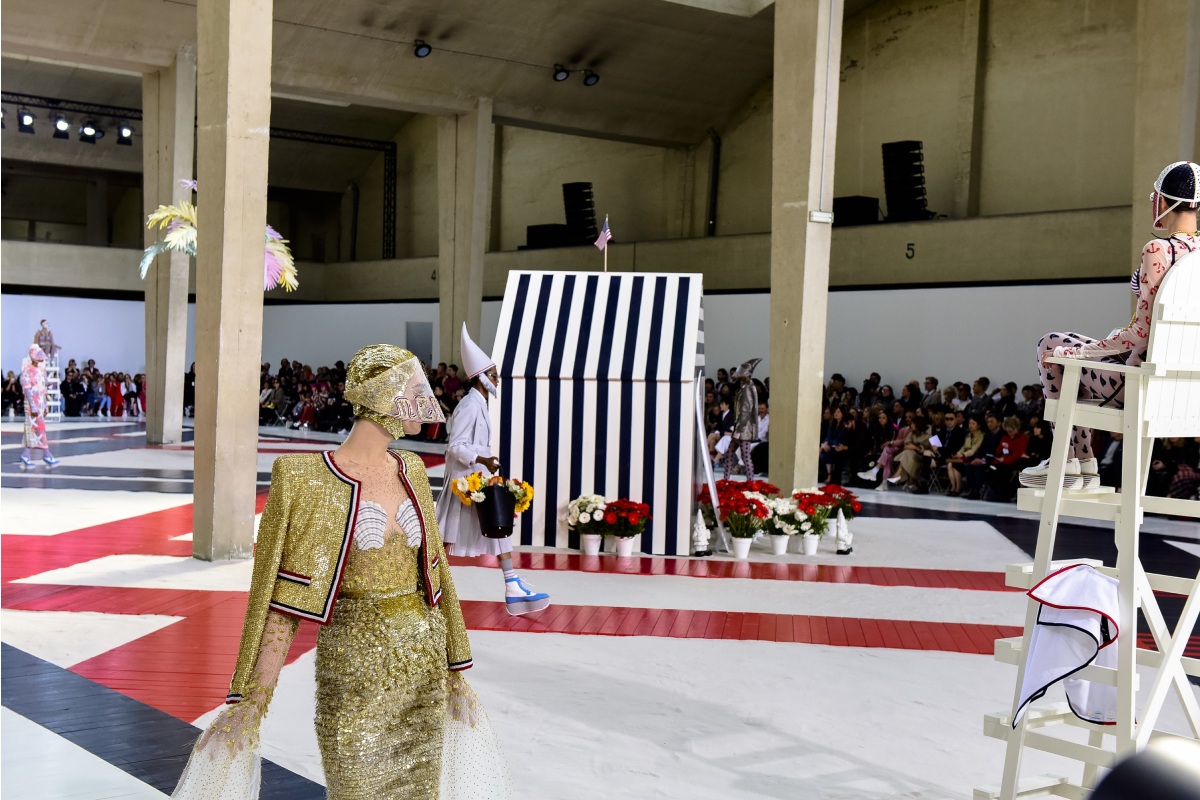 STAND OUT FROM THE CROWD
This season is sprinkled with an experimental allure that showcases the strength of women and celebrates their power. Here are the key points that dazzled our minds and will match perfectly the Mykonos easy-and-fun-mode for the days and nights to come. Extra points: the Va-va-voom effect.
The general feeling of the season is a chic update of gorgeously demure opportunities. "Romantic yet fierce is the mood", say Dimitris Alexakis and Grigoris Triantafillou (Greece's fashion power-duo Maison Deux Hommes) describing skillfully -as always- the general flair of the moment.
Their latest French New Wave – high-aesthetics collection meets a Brontë novel, that touched the heavens, is all about dreaminess and looking dramatically comfortable, yet super modern (Maison Deux Hommes' pieces are available at Al Giga's Mykonos store at Chora).
As we all are aware of, fashion has been staging a youth-quake for several seasons now. Elevated street looks (which means that a shirt-dress may come with guipure appliqué, a "simple" print maybe not be so simple but inspired by 18th-century wallpaper etc.) meet a certain level of decadence associated with clothing from the Victorian era; a style which also appeared on the global streets (billowy coats, high-necked dresses, waves of shimmering lace and so on).
Maison Deux Hommes, available at Al Giga Store in Mykonos. Images courtesy of Maison Deux Hommes and Vogue Greece.
First of all, the season's heavy-point: Mixed Patterns. The different patterned fabrics putting together with all kinds of fashionably clashing outfits. Which means clever combinations and perfect summer-y style in different pieces and patterns.
Then we have the dreamy Feather Elements. Feathers are a sign of luxury. Fun and whimsical. Forming a couture silhouette for sure, feathers rocked the season, glamourized it and are the summer's sexy superstars.
Furthermore, the Leopard Print, Diana Vreeland's favorite pattern which went wild this season. Leopard prints prowl around every glamourous city this summer, and Mykonos is no exception.
Last but not least: the Fluffy Ruffles and Frills. This is one of those amazing trends that will help you easily stand out from the crowd. When it comes to ruffles, "more is more" (also a Mykonos rule).
The main characteristics of this trend are boldness, richness and extreme volume; explosions of ruffles and frills; ethereal ruffled dresses and tops, sometimes with a little circus-y effect. Why not? This is Mykonos we are talking about.
Images Courtesy of Maison Deux Hommes, Burberry, Gucci, Louis Vuitton, Marc Jacobs, Prada, Preen by Thornton Bregazzi, Saint Laurent, Thom Browne, Valentino, Versace, Zimmermann.