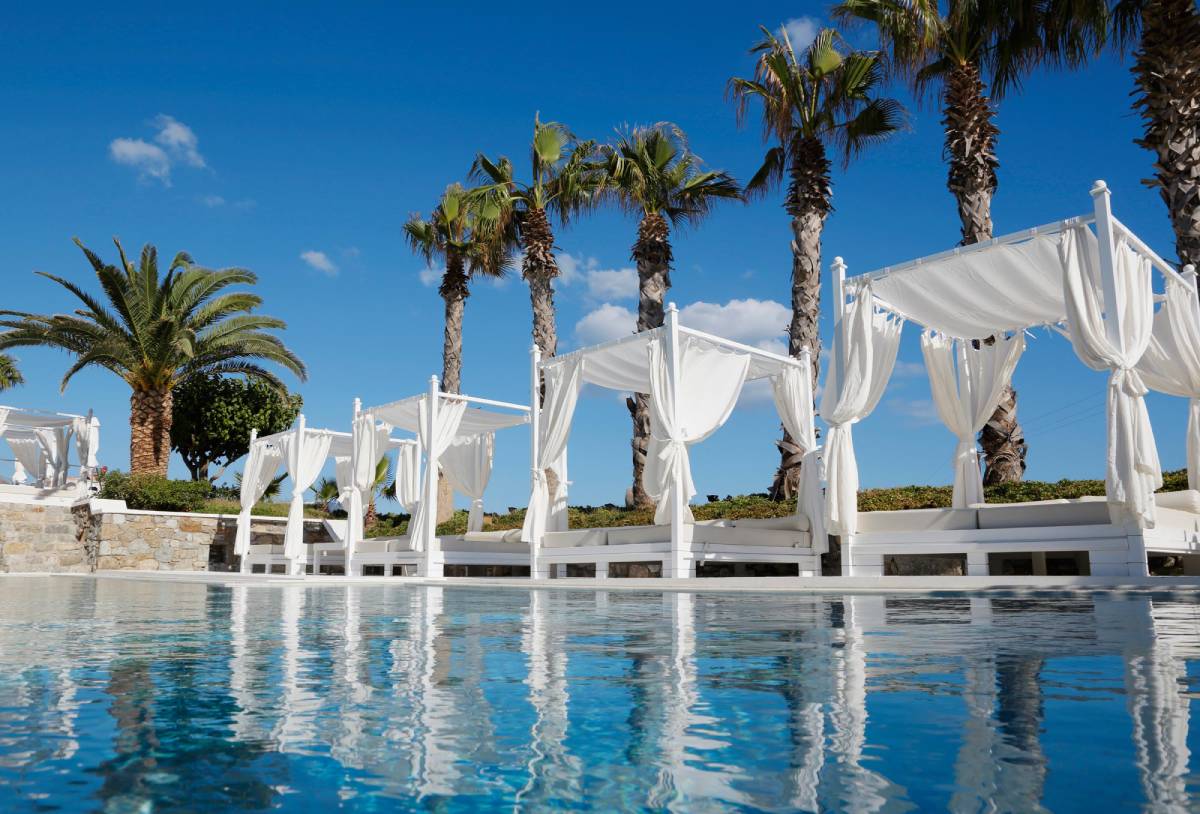 LA RESIDENCE MYKONOS HOTEL SUITES
CLASSIC, CHIC AND AUTHENTIC
On the southeast coast of Mykonos island at the sandy Kalafatis beach -the surfers' favorite spot- welcomes you the boutique-st of the boutique hotels, La Residence Mykonos Hotel Suites.
The 5 star all-suites hotel where classic aesthetic meets contemporary island style, offers 25 luxury suites with balconies (all of them with breathtaking views over the crystal Aegean waters), swimming pools (designed with handmade crystal mosaics) and private Jacuzzi.
The heavenly La Coupole Spa with a warm atmosphere and earthy colors, offers the authentic Turkish steam bath -one of a few in Mykonos-, special body treatments and slimming therapies such as "The Pepper Treatment" (pepper stimulates lipolysis and volume reduction while offering anti-cellulite action) or the antioxidant and slimming "Ol Oil Treatment" (with extra virgin olive oil and dry basil leaves, which is stress relieving and improves circulation).Besides its friendly and highly professional -attentive to detail- staff, the hotel's facilities are considered amongst the most luxurious on the island of Mykonos
All Images Courtesy of La Residence Mykonos Hotel Suites.
The culinary experience at the "La Veranda" restaurant expresses the art of gastronomic excellence. Awarded with Toques d' Or (the ultimate culinary distinction in Greece), executive chef Yiorgos Venieris has orchestrated his degustation menu that focuses on the premium Mediterranean cuisine.
The charming "Bon Bar" offers signature cocktails and drinks combined with the relaxing atmosphere of the hotel.
The hotel's statement is very simple: at the "La Residence" you will experience "the enchantment of a majestic epoch where time meant days and nights of leisure and every moment was a celebration of splendid refinement".
View La Residence Mykonos Hotel Suites Location on the Map