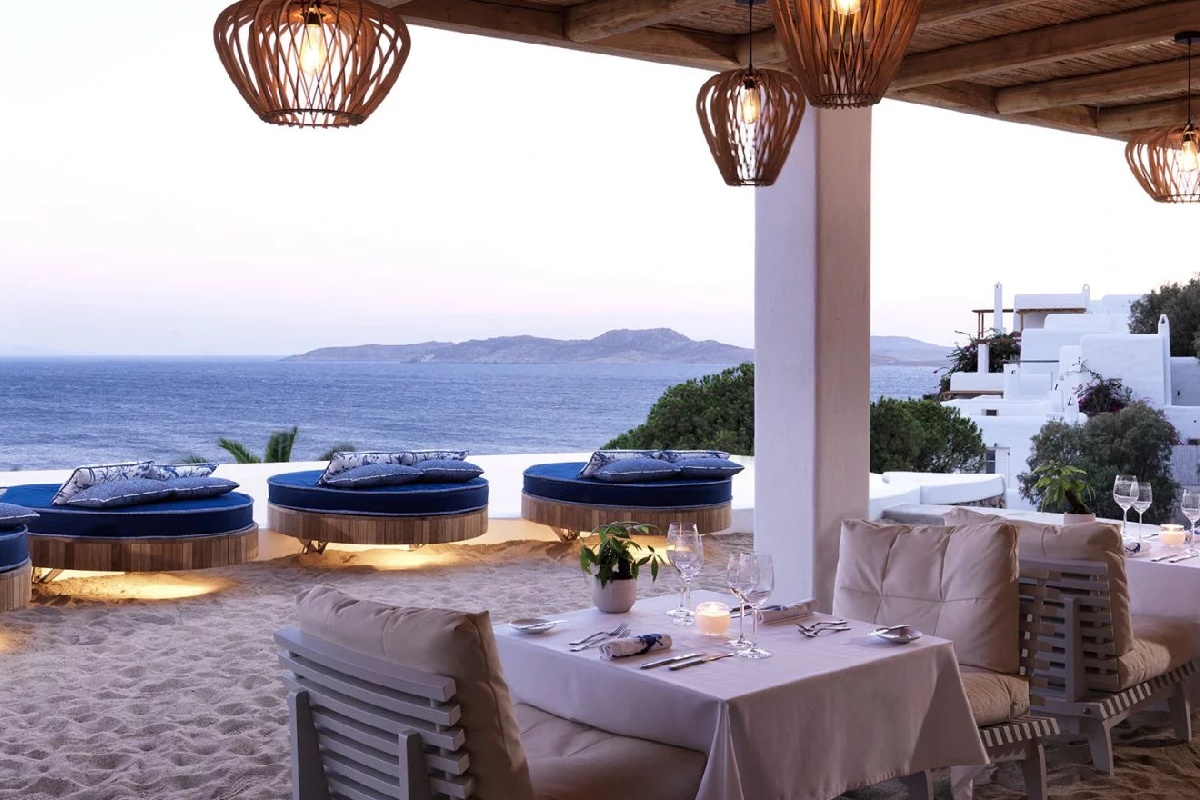 MYKONOS' FIVE-STAR SUPERIOR DINING, PART II
Mykonos' restaurant-scene covers, as expected, all the range from magnificent to brilliantly presented dishes with rich flavors and authentic character. Here are the most distinguished restaurants located in Mykonos' five-star hotels for a high-end culinary extravaganza.
REEZA RESTAURANT AT ROCABELLA MYKONOS. CUISINE: CREATIVE GREEK.
Located in Agios Stefanos at the seaside resort Rocabella Mykonos, the renovated Reeza ("root") restaurant (which is part of a wider renovation that will be completed in 2021 and has the signature of Stones & Walls firm) is the perfect fine-dining-spot accompanying with the dreamy views of the picturesque Chora, Delos and the Aegean Sea.
The full-of-character, cosmopolitan menu by the executive chef Michalis Kikis, offers a unique experience of creative modern Greek cuisine, with references to the island's tradition -like the Mykonian onion pie, presented of course with his unique style. Everything on the menu (which also features vegan choices) has Michalis Kikis' personal touch, even his version of "Greek salad" that combines aromas and flavors from the chef's memories and brings to mind our summers in the village.
The characteristics of every dish are based on high-quality emotional cooking exactly as one would expect from Kikis' excellent methods, which elevates the entire dining experience.
All the above find their match with the excellent wine list that honors the Greek -and not only- vineyards. Last but not least, pastry chef Spyros Artellaris, who we meet at Scorpios' as well, is taking special care of the dessert menu.
KENSHŌ ORNOS RESTAURANT AT KENSHŌ ORNOS HOTEL. CUISINE: MEDITERRANEAN.
The relaxed ambiance of Kensho Ornos Restaurant of the super-chic luxury hotel Kensho Ornos with its design lounge and elevated deck overlooking the bay of Ornos with the moored yachts proposes through its cosmopolitan dishes a touch of pure Omni-sensual delight.
Deep culinary understanding of modern gastronomy based on creative Greek tradition using modern techniques. That could be a good beginning which describes and matches the vision of executive chef Nicos Constantinou who is in charge of the Kenshō Ornos all-day comfort gastronomy concept. His dishes – inspired by traditional Mediterranean cuisine with Asian and Latin characteristics- are culinary fireworks of texture and flavor.
A delicious world of exotic and tropical tones accompanied by the traditional Aegean food giving rise to a diversity of sensations. Greek fine dining at its best.
LA VERANDA AT LA RESIDENCE MYKONOS. CUISINE: MEDITERRANEAN FUSION. 
The awarded La Veranda restaurant of the hotel Le Residence is located at the sandy beach of Kalafatis. Executive star chef Yiorgos Venieris – who knows best the Thai dining culture and introduced the term "Greek Thai", aimed to combine Thai cuisine with the Greek element and all that as acceptable as possible (after all, he is Mr. Pug).
Giorgos Venieris knows very well the Greek cuisine, which he loves. But, as he says: "We have to make an extra effort." He worked it out as new Greek -urban- cuisine. "But, before that, we have to work on it. We also have to take a closer look at what we are, what we offer, what we produce and after that we can talk about Greek cuisine."
At La Veranda nevertheless, he has orchestrated a menu based on the premium Mediterranean flavors. Accompanying by chef de cuisine Christos Glossidis and pastry chef Konstantinos Symeonidis, the gourmet restaurant presents traditional local delicacies as well as international dishes, which means: Greek flavors with an Asian fusion touch.
MIKRASIA AT KATIKIES MYKONOS. CUISINE: ASIA MINOR
Imagine walking on soft and sandy floors, having clear views of the Aegean and sitting just a few steps away from the sea. That is the contemporary way of new luxury and it is not imagination but a fact at Mikrasia Restaurant, which lies on a dreamy location, at the upper level of Katikies Mykonos (recommended by Condé Nast Traveller as one of the 5 best Greek Island Hotels for 2019) or as many visitors states "the coolest hotel in Mykonos."
Executive chef -and Umami master- Aggelos Bakoloulos knows very well how to set up a menu that is paying tribute to the culinary heritage of Asia Minor and Constantinople (which means strong seasonings, intense flavors and authenticity of ingredients) like the Fresh Lobster a la polita or the Pigeon with sour cheese ravioli, kumquat, white asparagus and "spetseriko" sauce and many more delicious creations from across Greece and Turkey.
"Carrying the nostalgia, the multicultural character and cosmopolitan flair of the glorious city of Smyrna and the wider ancient Ionia, Mikrasia Restaurant captures the city's rich heritage in its intriguing flavors, inspired by homemade recipes of times gone by", as the hotel Katikies puts it.
ALL IMAGES COURTESY OF ROCABELLA MYKONOS, KENSHŌ ORNOS HOTEL, LA RESIDENCE MYKONOS, KATIKIES MYKONOS.