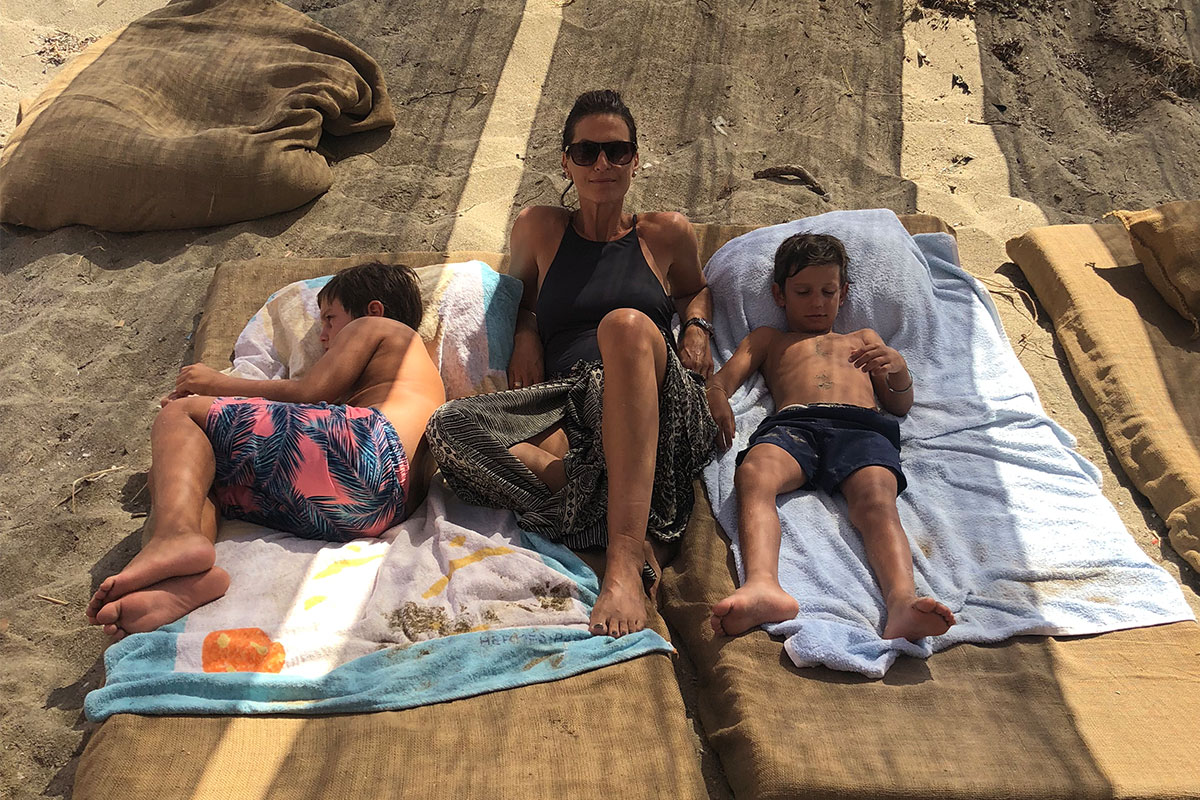 MY MYKONOS | MARILYN KATSARI-ANDREOULAKI
Marilyn Katsari-Andreoulaki is an Interior Architect and Designer but also a fabulous soul, an ultra-glamorous girl and a fashion connoisseur. Marilyn graduated from Rhode Island School of Design (RISD) with a BA of Arts and a BA of Architecture. She worked in NYC for a few years along famed architect Costas Kondylis and has also undertaken projects in London. Her enthusiasm with fashion and her great aesthetics are genetic and derive from her mother, owner of Enny Monaco boutiques, who is also her favorite company on the island along with her sons and husband.
Favorite first thing to do every time you are on the island: My favorite thing to do as soon as I arrive is to go to town and walk around and enjoy the breathtaking views of Greece's most beautiful island.

Favorite beach: Agios Sostis, Ftelia, Agia Anna
Best sunset: From the Mills close to Little Venice.
Best cocktail: at Belvedere Hotel.

Best memory: I' ve been going to Mykonos since I was 5. I have the best memories with my parents having a blast and dancing wherever possible.

New best memory that you would like to create: My new best memories are the ones I am creating now with my kids and husband and close friends.
Marilyn has designed and curated all Enny Monaco Boutiques in Athens and in Mykonos. She was also the soul behind the two-year project at Venieris Mansion in Mykonos Chora where she entirely transformed the emblematic villa turning it into a design and fashionable space, the Enny Monaco Pop-up at Venieris Mansion. Christian Louboutin monobrand boutique in Nammos Village, also known as Loubi Beach is one of Marilyn Katsaris' latest projects, a must visit for anyone on the island!
Her interior perspective is that of balancing colours and textures and using light into creating harmonious and long lasting spaces that represent each owner's personality and meeting their needs.
Best company on the island: My mother and close friends that also visit from abroad!

Mykonos by day or by night? You have endless possibilities once in Mykonos. Enjoy them all!!!
Favorite restaurant: Kiki's in Agios Sostis and Alemagou.
Favorite bar: Astra! An all time classic.
Share with us an "only in Mykonos" experience you had: Only in Mykonos you can start dancing as soon as you go to the beach until the early morning.

Do not leave Mykonos without… going to the new Christian Louboutin boutique, Loubi Beach in Nammos Village and visiting the Enny Monaco boutique in Tria Pigadia in Mykonos town.

Images courtesy of Marilyn Katsari Andreoulaki.