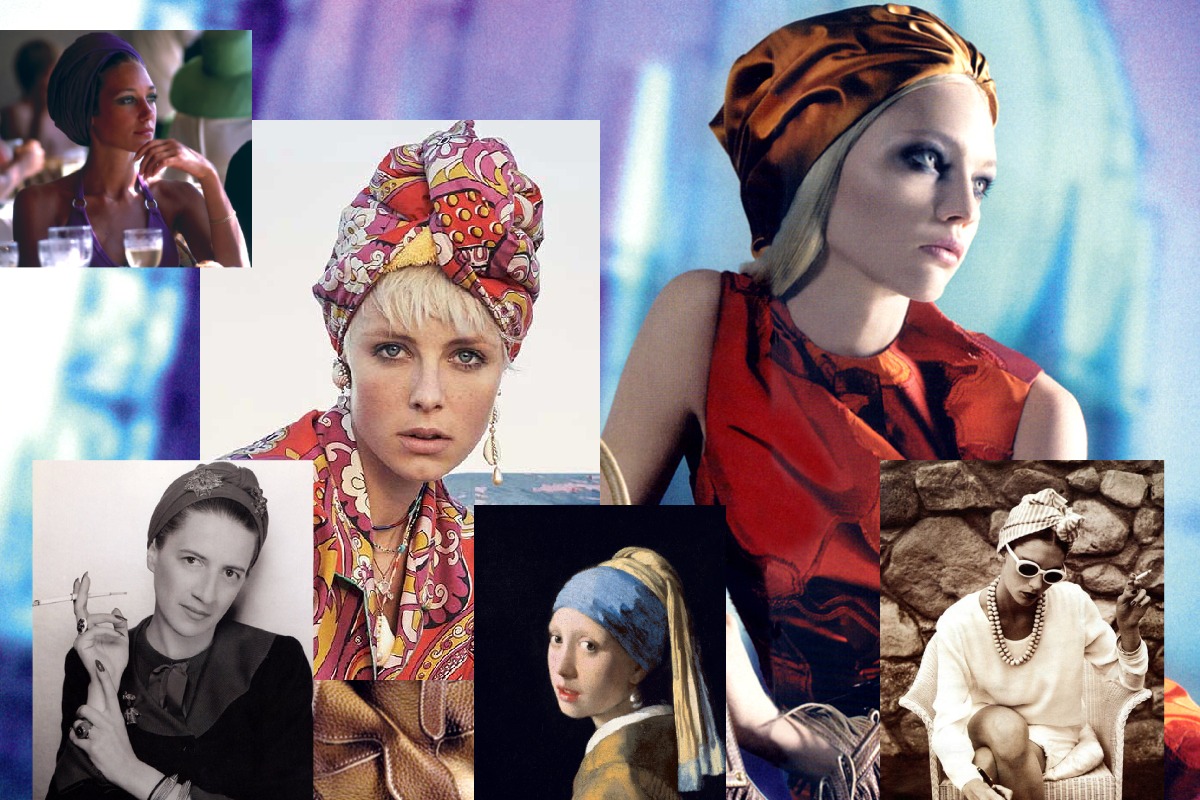 HEAD-WRAP SENSATION
The turban-style head-wrap is back on trend and we love it. The unsurpassed beauty of this accessory with a time depth of more than 4000 years has still the power to transform an outfit by making an otherwise basic attire looking gorgeous, glamorous and updated at the same time. Bonus: If you choose to wear it, you will get extra points from the Mykonian fashion crowd.
According to CNN's article From Mesopotamia to West London, a 4,000-year history of the turban, "The turban's exact origin is unclear. A turban-like garment, found on a royal Mesopotamian sculpture dating to 2350 B.C., is believed to be the earliest known example, offering evidence that the garment predates the Abrahamic religions."
Also, painters and artists from the 17th century often imported clothing and accessories, like turbans, from faraway places to add an exotic flavor to their art. So did Johannes Vermeer, the Dutch Baroque period painter, with his masterpiece Girl with a Pearl Earring.
Between 1790 and 1810 the headpiece traces its popularity among fashionable Englishwomen. The piece has found its way into the fashion realm and has become a way to signal exotic glamour.
The early 20th century saw a large revival in the reputation of the fashion turban. Then, in the '30s and '40s, it became connected with Hollywood glamour when stars like Greta Garbo, Gloria Swanson, and Joan Crawford wore them.
In the '70s, the model Marisa Berenson (entitled by Yves Saint Laurent The girl of the Seventies) defined the decade's relaxed glamour with her statement jewelry, the long caftans, her unique mix of boho & city chic and of course with the towel-wrap headpieces. Another YSL's muse, Loulou de la Falaise, transformed the look to something that was more effortless and easy but still formidable.
In The 00ss since that Prada show in 2006, the fashion's most powerful creative force, sends her army of turbaned girls on the runway and it seems that the audience stopped breathing for a moment. After that, versions of the turban have appeared in many collections.
Women on the street have begun to include the headpiece in their everyday lives and 2010 the fashion turban's kicked off when costume designer Patricia Field gave Sarah Jessica Parker a turban-style head wrap to wear in Sex and the City 2.
As for styling, there is no way to do something wrong. Wrapping your head with a scarf complements your style add's, besides this specific touch of drama, some extra worldly exoticism to anything from a white T-shirt to beachwear to an evening dress. You can trust a turban-style headpiece to do some screaming.
Editor's note: In this article, we refer to turban-style and not the religious symbol Dastaar, so-called among the Sikhs.