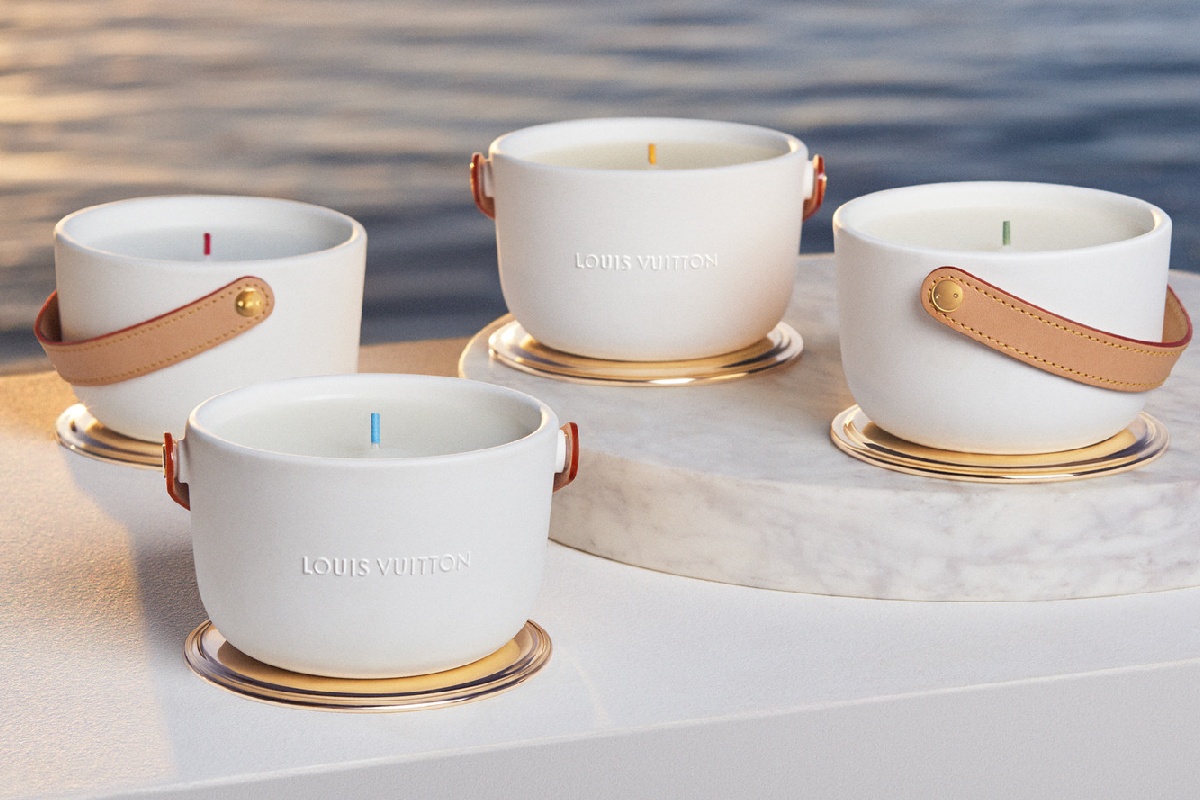 Louis Vuitton scented candles collection
Louis Vuitton introduces the deluxe addition of four scented candles, created by Master Perfumer Jacques Cavallier Belletrud, that transforms the home into another ambiance.
Wishing to capture the scent that wafts through natural settings and to transport it indoors, Master Perfumer Jacques Cavallier Belletrud imagined each of his first four Louis Vuitton candles like a house with windows open to the world — or a poetic breeze that comes from outside and settles indoors. Each of the perfumer's creations draws on landscapes discovered while traveling, as well as the homes where the candle's fragrance alights.
The designer Marc Newson created the handmade ceramic jars inspired by movement, which is the Maison's reference point from their very first trunks, through to their ready-to-wear and fragrances. Developed from rare minerals sourced in England, France and New Zealand, this is one of the highest-quality porcelains available anywhere. This type of ceramic offers unique whiteness and transparency as well as resistance over time.
Their unique form was created with portable convenience in mind. The natural hand-sewn leather handle -crafted in Louis Vuitton's workshops- gives the candle its pure, nomadic character.
It is secured to the ceramic with metal rivets (reflecting the Maison's know-how) and the gold-finished metal lid can be removed and be placed, as a base, underneath the candle and the fragrant wax is poured in Grasse, France. Another great detail of those unique candles is the colorful detail: a wick coated in a subtle touch of vibrant pigment, are hand-colored by an artisan wax maker in Grasse.
These four fragrances have been composed like snapshots of moments suspended in time, which can be relived when the candle is lighted anew. An emotional whirlwind, created from the most beautiful raw materials in the perfumer's palette.
The first rosebuds from the garden to infuse the house (L'Air du Jardin), the warm island sun steeped in a veil of white cotton (Île Blanche), scorched underbrush that permeates clothes during a walk in the woods (Feuilles d'Or), the magic of snowflakes as they fall, observed from the window with a fire blazing in the background (Dehors Il Neige).
L'Air du Jardin
Jacques Cavallier Belletrud creates an ode to this May rose by casting it in an Impressionistic light. Though the rose is one of the raw materials that can seem flattened when concentrated in wax, here it appears without artifice, transparent and ethereal.
Île Blanche
Île Blanche is an imaginary island, an archipelago of indigo and freshness, ocean spray and luminous rays. Jacques Cavallier Belletrud chose a fresh tea note to embody the contrast between the extreme purity of water and the incandescent sun. He also amalgamated a maté accord with orange, jasmine sambac from China, essence of neroli and cardamom. All the virtuosity of flowers are plunged into a bath of citronella and vervain.
Feuilles d'Or
Inspired by the scent of flamboyant forests, where the exhalations of moist earth fuses with those of leaves and wood, Jacques Cavallier Belletrud pays homage to Indonesian patchouli. The essence of patchouli combusting brings a mystical depth. Subtle facets of incense, geranium, and Peruvian balsam wend their way into this imaginary forest. One feels enveloped by a sensation of security and ultimate comfort.
Dehors Il Neige
Master Perfumer Jacques Cavallier Belletrud concentrates on the magic of snowfall during the year's waning days. an infusion of star anise and cinnamon evokes gingerbread and December's festive notes, Pine needles and an infusion of spices.
All images courtesy of Louis Vuitton. Photography: Charles Helleu, Grégoire Vieille.