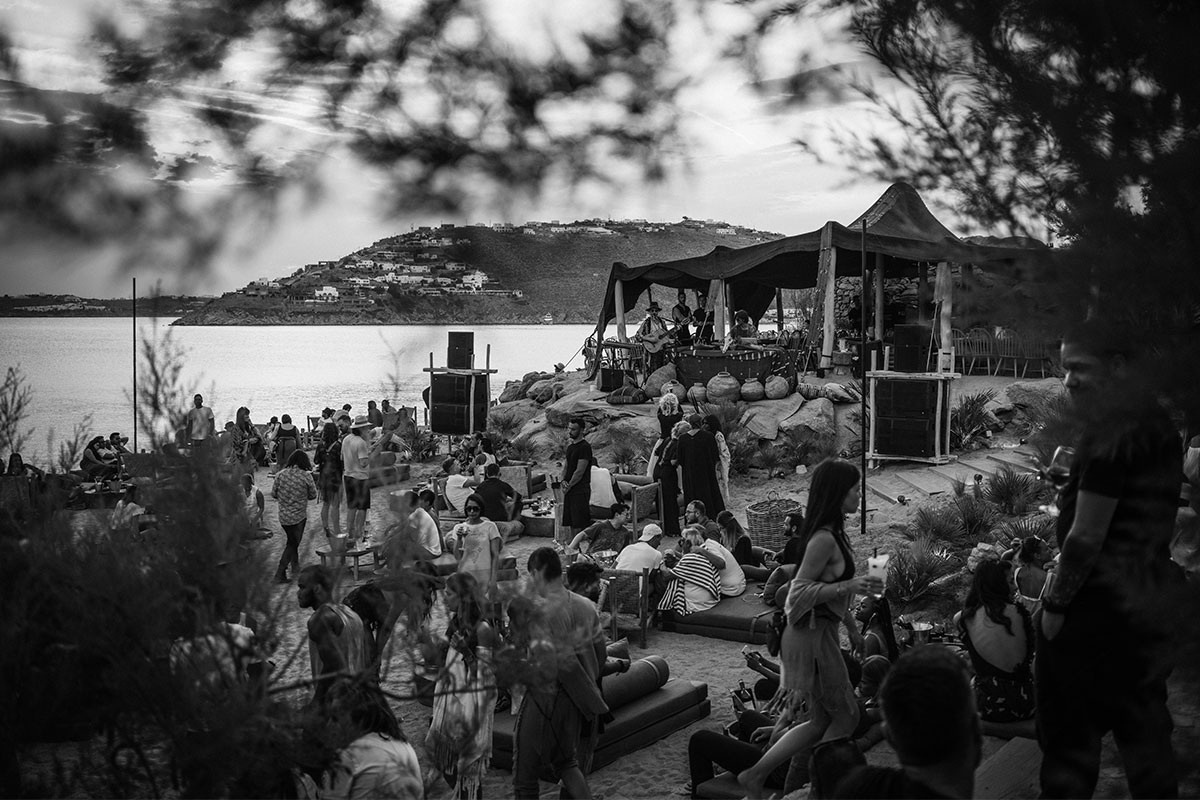 "FURTHER MYKONOS – THE ETERNAL FESTIVAL"
Mykonian's always find ways to blend the biggest global trends with their own culture. Under this umbrella one of the hottest spots in Mykonos, Scorpios, hosts for three days (7th to the 9th of June) "Further Mykonos – The Eternal Festival" -a traveling laboratory for experiential hospitality and collaborative culture launched in 2017 by Design Hotels. "Further" turns hotels into platforms for site-specific exploration, bringing diverse creative communities into deep dialogue with the history, culture, and local community of a destination. The small island of Delos, southwest of Mykonos, was a major cult center of the ancient world and Apollo's birthplace (the god who presided over all music, songs, dance and poetry) and plays its special part on this musical, cultural and art exchange. In honor of this lineage, Further brought the South African artist Daniel Popper to Mykonos to construct a large-scale figurative sculptural installation that reinterprets the story of Apollo's birth, building a metaphorical bridge between the Scorpios peninsula and ancient Delos.
The three-day music and arts festival will feature an array of panel discussions around contemporary art and architecture, the preservation of musical and dance traditions, and the history of Delia (the first cross-cultural festival in human history) and Delos, in collaboration with Roots Revival (an international project uniting musicians, musical styles, traditions, and instruments from across the world) featuring prominent panelists and moderators, such as Marcus Fairs from Dezeen and the French architect Arthur Mamou-Mani. The Scorpios experience at its best, a contemporary interpretation of the ancient Greek agora, making it an ideal place to host such a program.
For more information, RSVP and the detailed agenda:
https://www.scorpiosmykonos.com/encounters/reconstructing-the-past
RSVP at https://further.designhotels.com/rsvp-mykonos
Video: https://drive.google.com/file/d/1-6rYJIC4hx3SNFy47x3cYMq3gIpS0qly/view
AGENDA:
FRIDAY, JUNE 7TH: 5:00pm: World Music Performance with Quieter Than Silence / Location: World Music Stage. 6:00pm: Talk: Preservation of Musical Traditions with UNESCO World Heritage Organization, Sasha Waltz. 7:00pm: Scorpios Unplugged with Feathered Sun / Location: Scorpios Stage)
SATURDAY, JUNE 8TH: 3:00pm: Transformative Breathwork with Miriam Adler. 4:00pm: Mystic Hypnotism with Lewis Le Val. 5:00pm: Syrian Dance Performance with Dabkesim Collective / Location: World Music Stage. 6:00pm: Conversation: The History of Delos / Location: Leto Sculpture. 6:30pm: This is Temporary: Temporary Architecture and Festivals with Markus Fairs, Arthur Mamou-Mani, Daniel Popper / Location: Leto Sculpture. 7:00pm: Opening Ceremony and Unveiling with Ghattas and Ariana Vafadari / Location: Leto Sculpture. 8:00pm: Sunset show performance with Mercan Dede and Group / Location: Scorpios Stage. 9:00pm: Scorpios World with Valeron / Location: Scorpios Stage)
SUNDAY, JUNE 9TH: 1:30 pm: Transformative Breathwork with Miriam Adler / Location: Leto Sculpture. 2:00 pm: Tours of Delos. 5:30pm: Jacira Performance at San Giorgio)