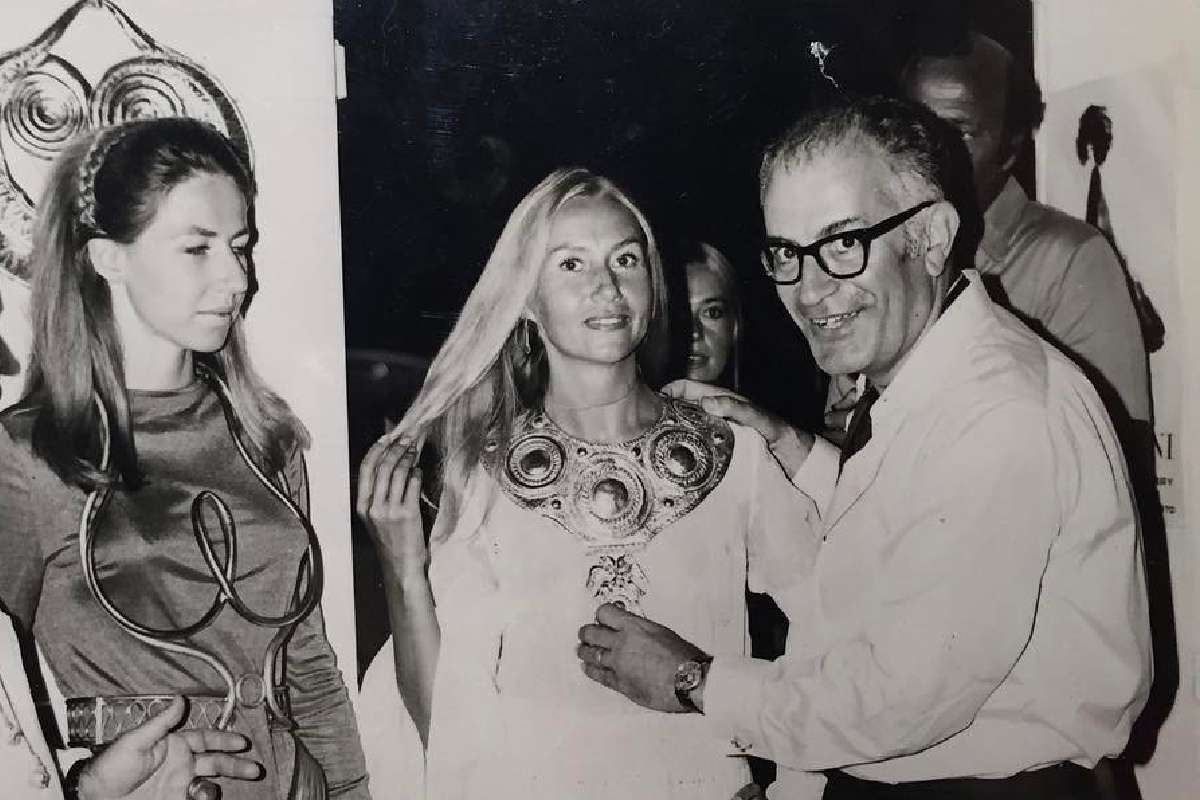 ILIAS LALAOUNIS | THE MASTER STORY-TELLER
Ilias Lalaounis mesmerised the global universe of jewelry with his body of work. The respected goldsmith shaped with his craft the contemporary paths of creativity and originality for the ones to follow. His voyage was definitely blessed by the Gods.
It is a very difficult task to describe in a few lines the massive and enormous work of this creator and visionary. One of the most celebrated jewelers in Greece.
Ilias Lalaounis was the fourth generation of a family of goldsmiths and watchmakers from Delphi. He studied Economics and Law and at the age of twenty he took over the management of "E. Zolotas" company, in which his father and his uncle were associated. Ilias Lalaounis was a creative artist and a perfect marketer who revitalized the country's industry in the 1960s and 1970s.
His very clear vision breathed new life into Greek museum artifacts and transformed them into jewelry by reviving age-old techniques while also introducing the use of modern technology.
His creations captured the allure of the past in 22-karat gold and his collections were inspired by the art of many different cultures and periods. His references varied from prehistoric to Minoan art, from Persian to Byzantine, from Chinese art to the art of the Tudors.
(clockwise) Beauty sensation Daria Werbowy wears Ilias Lalaounis jewelry, styled by Emmanuelle Alt and photographed by Inez and Vinoodh for Vogue Paris, April, 2008  •  The fashion reporter and photographer, Mary Russell, with her longtime friend and couturier Yves Saint Laurent, wears a Lalaounis necklace  •  Jackie O' is wearing the original "Apollo earrings". Ilias Lalaounis made them for Aristotle Onassis to give to Jackie in 1969 for her 40th birthday and to commemorate the moon landing  •  Ruth Negga wearing Lalaounis earrings featured on the cover of W magazine, styled by Edward Enninful and photographed by Craig McDean Studio  •  "Aurelia" chandelier earrings captured for a Vogue Brazil shooting in Mykonos, photographed by Zee Nunes  •  September, 1982: Arianna Huffington photographed by Norman Parkinson in in Ilias Lalaounis creations.
In 1970, among his many huge achievements, Ilias Lalaounis caused a sensation in the world of jewelry with his "BLOW UP" collection, which he first presented in Paris. His "Giant Jewels", inspired by the Minoan civilization, were intended to cover the entire body.
In 1971, he organized an international exhibition of jewelry and objects in Athens. Van Cleef and Arpels, Bulgari, Rene Kern and Harry Winston participated in the exhibition by his side.
In 1976, Lalaounis had one of his most important commissions which would prove to be one of the most inspiring for his portfolio. His Majesty the Empress Farah of Iran, commissioned Lalaounis to create a collection of jewelry and objects inspired by Persian art, which went on display at the Imperial Palace in Tehran.
His thirty years of creations were inspired by Art and human activity in all fields, by the wonders of nature and the universe, as well as by science and technology.
As the appreciation to his work spread, the business continued to grow, expanding throughout Europe, Asia and America.
He became the first goldsmith to be honored by the Institut de France, "Académie des Beaux Arts et des Lettres", for his inspired contribution to the art of jewelry creation.
(from left) Ruby double bull's head crossover ring. Diamond and gem-set double lion head bangle. Pair of "Animal Head" earrings in the shape of lions' heads, with ruby eye highlights.
"Mykonos is a place that has given us a lot, most of all inspiration, through the traditions of Cycladic art and the simplicity of its architecture." Aikaterini Lalaouni.
Today, Lalaounis' four daughters Aikaterini, Demetra, Maria, and Ioanna – all still use their father's surname- have taken over the administration of the firm.
According to his belief a jewel or a work of bejewelled art is not merely jewellery. That is because it tells a story, it has something to say, it has a soul.
"This classical Greek idea that behind every object there is a story is an international notion. Although my jewellery has many folkloric inspirations, it is not folkloric at all. My pieces sell very well all over the world, in France, Germany, England, New York, Hong Kong, Tokyo, the Virgin Islands…they are international. Their story is understood all over the world.
"Perhaps I do have the spirit of an archaeologist. Originally I was a salesman and I think a good salesman must have the spirit of a fisherman or a hunter. It is no good to sell just to make money but for the victory. But I was not a fisherman nor a hunter; I don't like to kill."
"However, I have also created pieces based in biology. The human body consists of billions of pieces of jewellery when seen through an electronic microscope.
"I have also created a collection based on astronomy and the movement of the planets. I also created pieces of jewellery based in psychology so I am not just an archaeologist, I am a geologist and a sociologist and an astronomer but I think that in the overall analysis I am an artist."
Polikandrioti, 84600 Mykonos
+30 2289 022444