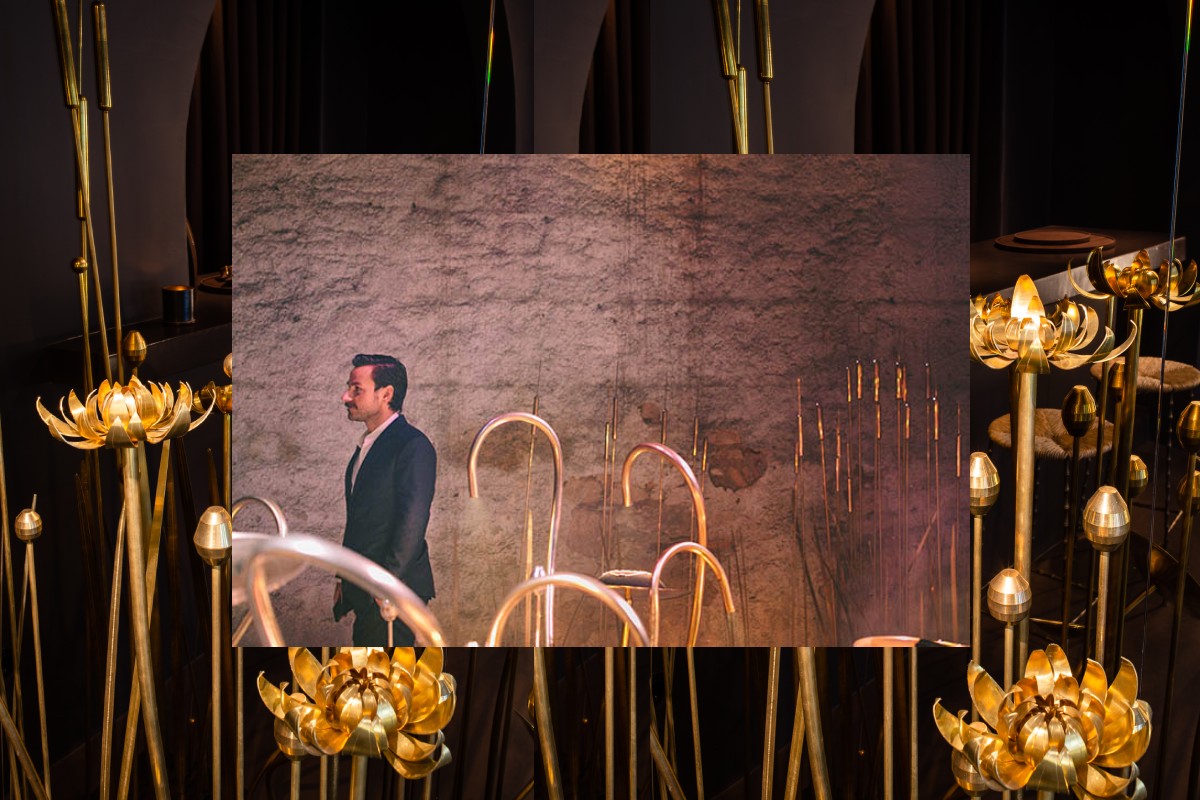 Nikos Koulis | The contemporary magician
The new Feelings boutique is a precious gallery which displays the most esoteric collection by Nikos Koulis interpreted in yellow gold and diamonds. A culmination that is connecting his art with the sculptural installation harmoniously integrated into space.
Its name was inspired by the soft, strong, complex and diachronic character of the pieces; the same with feelings. It reflects sumptuous texture, cross-cultural appeal, ethereal mastery.
It all started in March 2019 with the debut of "Feelings" collection -that became an exhibition- and the contradiction that the designer had on is mind and heart.
He found the perfect location to present his new anthology: A warehouse in Piraeus (the shipbuilding area in Athens), which turned into a contemporary art gallery where the 300 distinguished guests were introduced to the precious character of his pieces.
And there was more: "With Feelings, I was inspired to present the collection with an artistic installation to showcase the jewelry out of cases and windows, and invite friends from all over the world to share the joy of presenting something, which was in the making for 18 months! ," says the award-winning designer.
Therefore, an installation of giant metallic flowers emerging from the floor was the perfect scenery. The twelve unique pieces, featuring rare stones, were placed on the bronze custom sculptures created by artist Socratis Socratous, especially for the event.
The sculpture's installation of his Feelings collection "moved" to the new, seasonal space in Mykonos. Designed by Nikos Koulis team and their constant creative partner, Stavros Papagiannis from Stage Design Office, the boutique has a distinctive, dramatic character to illustrate the character of the jewelry.
The marron brown color in walls and arch window-cases is a reference to the earthy tones of Cycladic soil, accompanying the bronze floral sculptures and the dark mirror reflecting them.
The established Greek designer is always intrigued by redefining timeless motifs from the past in his own terms and placing them in a contemporary context. Furthermore, goldsmith and artisan techniques are projected in all his creations.
The temporary space, in an adjacent location to Nikos Koulis main boutique in Kalogera street, will last through the beginning of September.
The collection and its custom installation will be presented in Istanbul during the Art Istanbul fair in September 13th and then at Bergdorf Goodman store in New York, where Nikos Koulis will take over the Exhibition Space of the iconic BG Jewelry Room to reveal his jewelry along with his aesthetic identity from the beginning of October till the end of November.